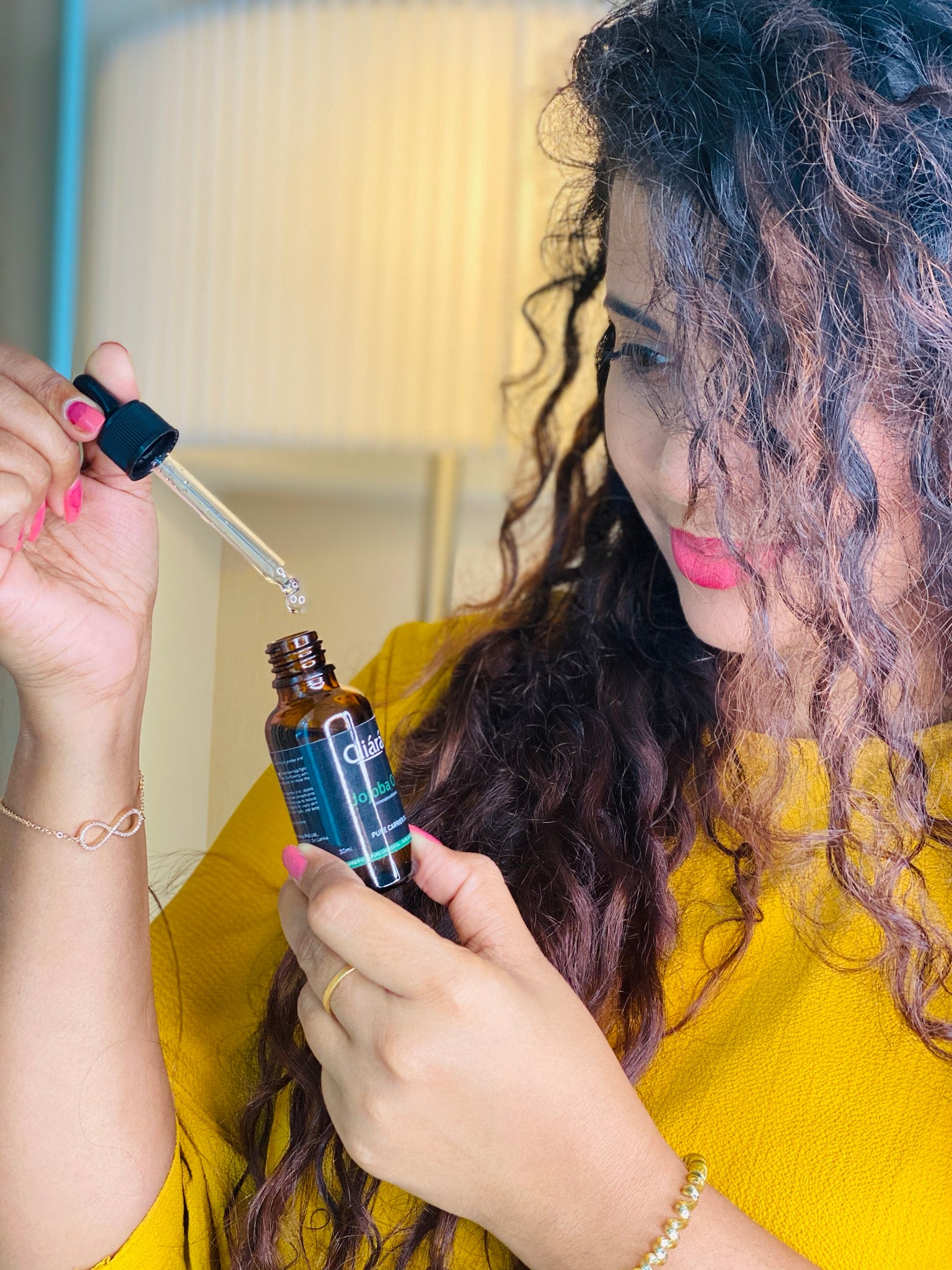 A carrier oil is a vegetable oil made from the plant seeds, nuts, or kernels, it is mostly to use base oils that dilute essential oils before topical applying. Carrier oils got their name from their purpose of carrying
Essential oils
through the surface of the skin. Each carrier oil has a different combination of health benefits and therapeutic properties.
Here we are talking about the best carrier oils you can find in the market with their benefits and uses;
Rosehip oil
Rosehip oil is made from the seeds of wild rose bushes, well-known for its use of skincare and beauty treatments. This oil is mostly used in moisturising lotions, skin brightening face packs and acne prevention face wash products. The oil is rich in fatty acids, vitamins and beta-carotene, it helps the body produce collagen that results in anti-ageing, skin damages and hydration of your skin. Rosehip oil is recommended to use daily on your face, skin, nails and hair. Its anti-inflammatory properties will soothe your skin, heal acne and prevent from further skin damages.
How to use:
Take 2 to 3 drops of Rosehip oil on your palm, apply on your face and massage gently in a circular motion to reduce dark spots and remove wrinkles.

Dilute Tea tree oil with Rosehip oil and gently apply on your skin that is affected by pimples and acne, continue this daily for a week to see results.
Add 2 to 3 drops of Rosehip oil to the sugar, mix it well and create a lip scrub. You can apply on your lips before sleep and rub smoothly.
Sweet Almond oil
Sweet Almond oil is made from kernels of the almond fruit, it contains lots of proteins, rich in Vitamin D and E also high in healthy fatty acids. There are many notable benefits from this oil for beauty-related conditions. This oil can help the body produce collagen which results in healthier and younger skin, also it supports hydrating the skin as well as nourishing the skin. It is also advised to use this oil for itchy skin, inflamed, burned or irritated skin. This oil is also beneficial for healthy hair and stronger nails.
How to use:
Mix Sweet Almond Oil with Lavender oil and apply on your face in the morning or before you sleep, it will support brightening your skin, reducing acne and improving skin conditions.

Take 2 to 3 drops of Sweet almond oil to your fingertips and rub gently your under-eye area before you sleep, keep in overnight and wash it off in the morning.

Add 2 drops of Sweet Almond oil and 2 drops of Tea Tree oil to your shampoo and use it to remove dandruff, this can also boost the hair growth.
Jojoba oil
Jojoba oil is made from the seeds of the jojoba plant, rich in VItamin A, D and E the oil is used in countless cosmetics and beauty products. It is known as one of the most beneficial oils for your face, skin, hair and scalp. It works as an antioxidant, antibacterial and anti-inflammatory agent and does wonders in healing scars, acne, wrinkles, dark spots and even serious skin conditions. This oil blends well with many essential oils including Lavender, Tea Tree oil, Frankincense and Geranium. Jojoba oil can be used for lip glowing, improving hair health and hair growth.
How to use:
Mix a few drops of Jojoba oil with Lavender oil and Frankincense oil, make a DIY Glow serum for your skin and use it daily for better results.

Add a drop of Rosehip oil on your fingernail cuticles, massage softly after shower for stronger and shinning nails.

Dilute Rosemary essential oil using Jojoba oil and apply on your scalp for healthier and longer hair, it also combats dandruff.
Argan oil
Argan oil is one of the most popular carrier oils and the most powerful oil among all others. It is made from the product of the Argania Spinosa tree kernel and originated to Morocco. The oil is well-known for its use in beauty and cosmetic products including hair oils, hair serums, conditioners and skin moisturisers. Argan oil works well essential oils including Lavender, Rosemary, Peppermint, Geranium and Tea tree oil, the rich ingredients of the oil supports healing skin problems and improving hair health.
How to use:
Add 2 to 3 drops of Argan oil on your hair, massage gently and rinse it off after 2 hours

Add a drop or two of Argan oil to your foundation for an extra glow

Smooth a drop of Argan oil after styling your hair for a shinning look
Castor oil
Castor oil is produced by roasting the beans of the Castor plant, rich in Omega 3 fatty acids and used in many hair care treatments and solutions. The oil is not only beneficial for the hair but also improve skin health, the oil works well with Lavender essential oil. The natural ingredients of Castor oil help nourishment of your skin, add a shine to your hair and improve the overall appearance. 
How to use:
Add 2 to 3 drops of Rosemary oil and mix it with Castor oil to make your own healthy hair oil, add 2 drops of Lemongrass to boost hair growth.
Dilute Lavender or Rosemary oil using Castor oil, create a great mix and apply on your eyebrows, keep it overnight and rinse next morning for thicker eyebrows.

Mix Castor oil with coconut oil for an overnight hair care oil treatment to reduce hair fall and improve hair thickness.
Neem oil
Neem oil has been used in medicine and beauty care routines for thousands of years, the fruit and seeds of Neem plant are used manufacturing the oil. It is also known as the Beauty secret of India, as many people in India used it in making their home remedies for beauty. Neem oil can support strengthening the immune system of the body, works as an antibacterial agent, soothe the skin and improve the hair health. Due to its medicinal properties, the oil is mostly used in Ayurveda medicine and natural beauty care products.
How to use:
Add 2 to 3 drops of Neem oil to your shampoo and use it daily to combat dandruff and support the hair growth.

Add 2 to 3 drops of Neem oil to your body lotion and use it to nourish your skin, soothe it and keep it hydrated.

Add 2 to 3 drops of Neem oil onto a cotton swab and apply on your skin areas that are affected by acne and pimples.