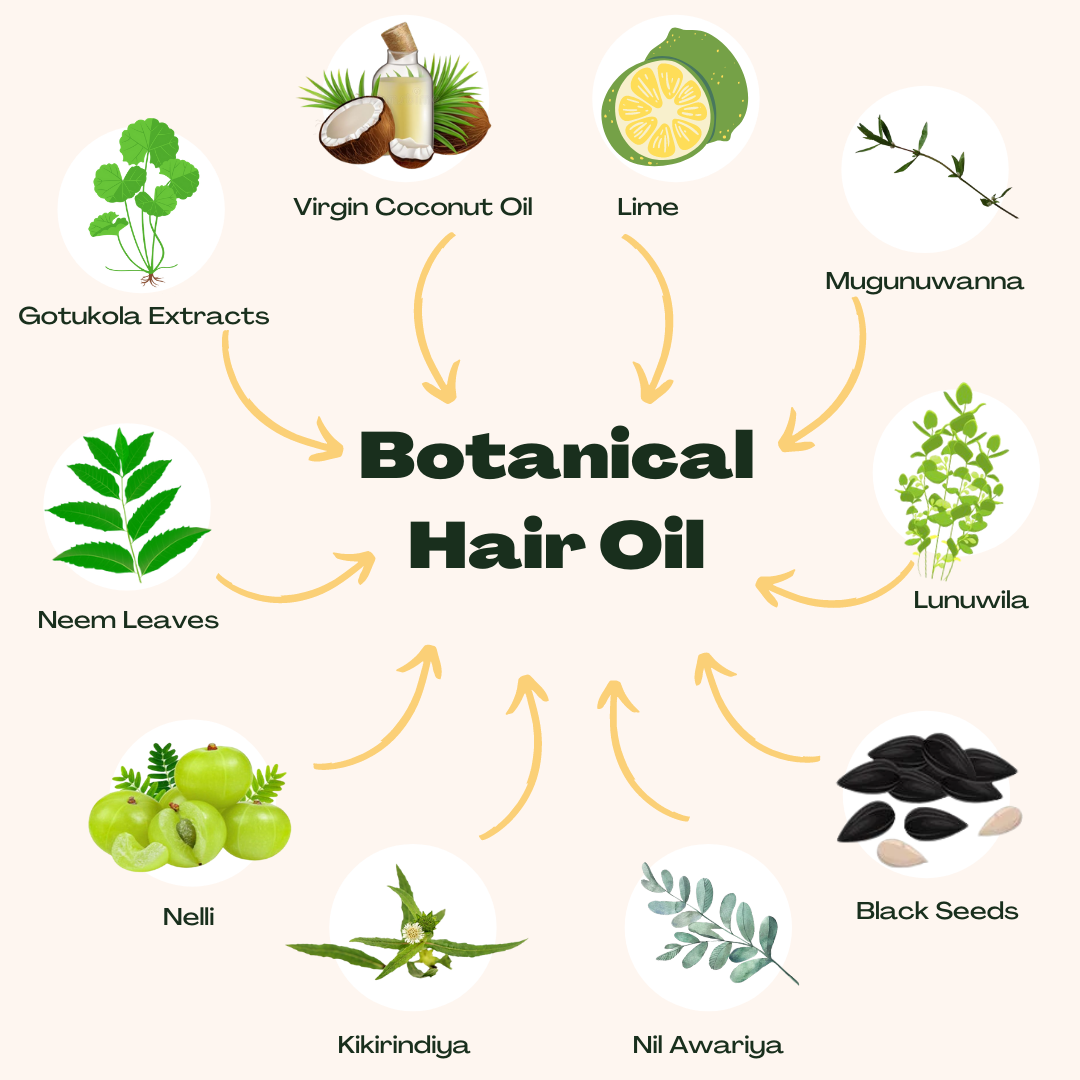 When it is about hair care, oils play a significant role for any individual; coconut oil, argan oil, neem oil, castor oil, almond oil, you can add many to this list. But with so many different oils and a wide range of benefits from each, how does anyone choose one oil? How does one understand what is best for them? We as a company offer holistic wellness solutions for people through oils, dug deeper into the hair oil world to understand how different oils can support hair issues including dryness, dullness, frizziness, dandruff, hair fall and thickness. From our findings, we carefully designed a botanical hair oil to solve hair problems and support hair growth.
Rich in natural vitamins, this carefully formulated botanical hair oil is made with 10 fresh handpicked ingredients. The oil is great in promoting hair growth, treating hair fall and loss, reducing dandruff, repairing dry scalp and treating damaged hair. The oil leaves your hair and scalp nourished, healthy and lustrous with its rich ingredients and nutrients. The oil is made in Sri Lanka using the ancient secrets from mother nature, and we believe Cliara Botanical Hair Oil is one of the best oils in the market that suits any hair type. Paying attention to rich ingredients will help you decide whether you truly need this hair care oil or not.
Virgin Coconut oil
Virgin coconut oil is considered to be the best treatment for your hair and scalp. It acts as a hair protector, scalp moisturizer and hair growth booster. The oil helps to prevent dandruff, heal scalp dryness and itchiness, reduce hair fall and loss, treat split ends and heal damaged hair and breakage. Coconut oil contains loads of fatty acids, penetrates deeply than regular hair conditioners and leads to beautiful, soft, shiny hair.
Gotukola Extract
Gotukola is certainly one of the most popular Ayurvedic herbs used for beauty purposes. The rich nutrients in Gotukola increase hair volume, stimulate hair growth and damage hair and scalp by increasing the blood circulation to the scalp. Gotu kola plays a powerful role in strengthening the hair follicles that prevent hair loss and fall. Many used Gotukola powder in making hair masks to stimulate hair growth and reduce dryness.
Mugunuwanna
Rich in iron, calcium and other vital nutrients, Mugunuwenna considered having immense benefits for the eyes, hair and skin. Every part of this rich plant is used in hair care, special benefits of the ingredients are treating the dry or itchy scalp, reducing hair dullness, healing split ends and stimulating hair growth. In ancient times, Mugunuwanna was used to heal damaged hair and soothe the scalp.
Neem Leaves
Neem, known for its medicinal and beauty properties is an effective herb to treat hair fall and loss. Due to its antibacterial, antifungal and anti-inflammatory properties, neem is an excellent way to combat dandruff. Neem leaves condition your hair from root to tip and makes it healthy-looking and visibly soft, it helps the hair follicles to become stronger and also encourages hair growth.
Nilavariya
Undoubtedly one of the most popular herbs used in hair care, Nilavariya nourishes the scalp, reduces hair fall and promotes quick hair growth. Rich vitamins and fatty acids in this ingredient treat premature greying, hair loss and dandruff. Due to its beauty benefits, the plant extracts are used in making hair care solutions such as herbal shampoo, herbal conditioners and hair masks.
Keekiridiya
Keekiridiya is well-known in Ayurvedic hair care products, the main benefit of this ingredient gives hair a soft and shiny look. The plant extracts help to remove the mess of hair, prevents scalp dryness and itchiness, improves the moisture level of hair and scalp. Keekiridiya gives full nourishment and a soothing effect to hair and body.
Lunuwila
Well-known for its ability to combat dandruff and prevent hair loss, Lunuwila is used in many hair care solutions worldwide especially in South Asia. Lunuwila treats itchy, dry and damaged scalp, nourishes the hair, improves hair thickness, stimulates hair growth and leaves hair manageable for any style you prefer.
Nelli
Nelli is one of the most popular and beloved herbal plants in Sri Lanka, the diversified tastes in Nelli makes it unique and rich. It can restore the pH level of your scalp, prevents hair fall and breakouts, boosts hair growth. Nelli can create a preservative layer on hair that can lock and moisture nutrients in them.
Lime
Popular for its strong antiseptic, antibacterial and anti-inflammatory properties, Lime is heavily used in anti-dandruff hair care solutions. Citric acid and Vitamin C in Lime can help promote hair growth, treat hair loss and fall. Lime makes your hair radiant and shiny, many use lemon juice for hair growth and dandruff.
Black seeds
Black seeds are made from seeds of the Nigella sativa plant and it has antibacterial, antifungal, anti-inflammatory, and antioxidant properties that can naturally restore hair growth and thickness. Black seeds oil is also used for headaches, body pain, migraine, wellness and anxiety.
The botanical hair oil is very easy to use. You can add a few drops of oil to your scalp and massage gently for 5 minutes. After massaging the scalp properly, you can apply oil to your hair as well. We recommend keeping the oil overnight for the best use but leaving the oil on your hair for 2 hours and washing it off is also recommended.
Many oils in the market have strong aromas and that is the main reason why some people do not like applying oil. With the understanding of this issue, we made the oil pleasant with the use of essential oil. The botanical hair oil has the aroma of Eucalyptus and Peppermint essential oils.