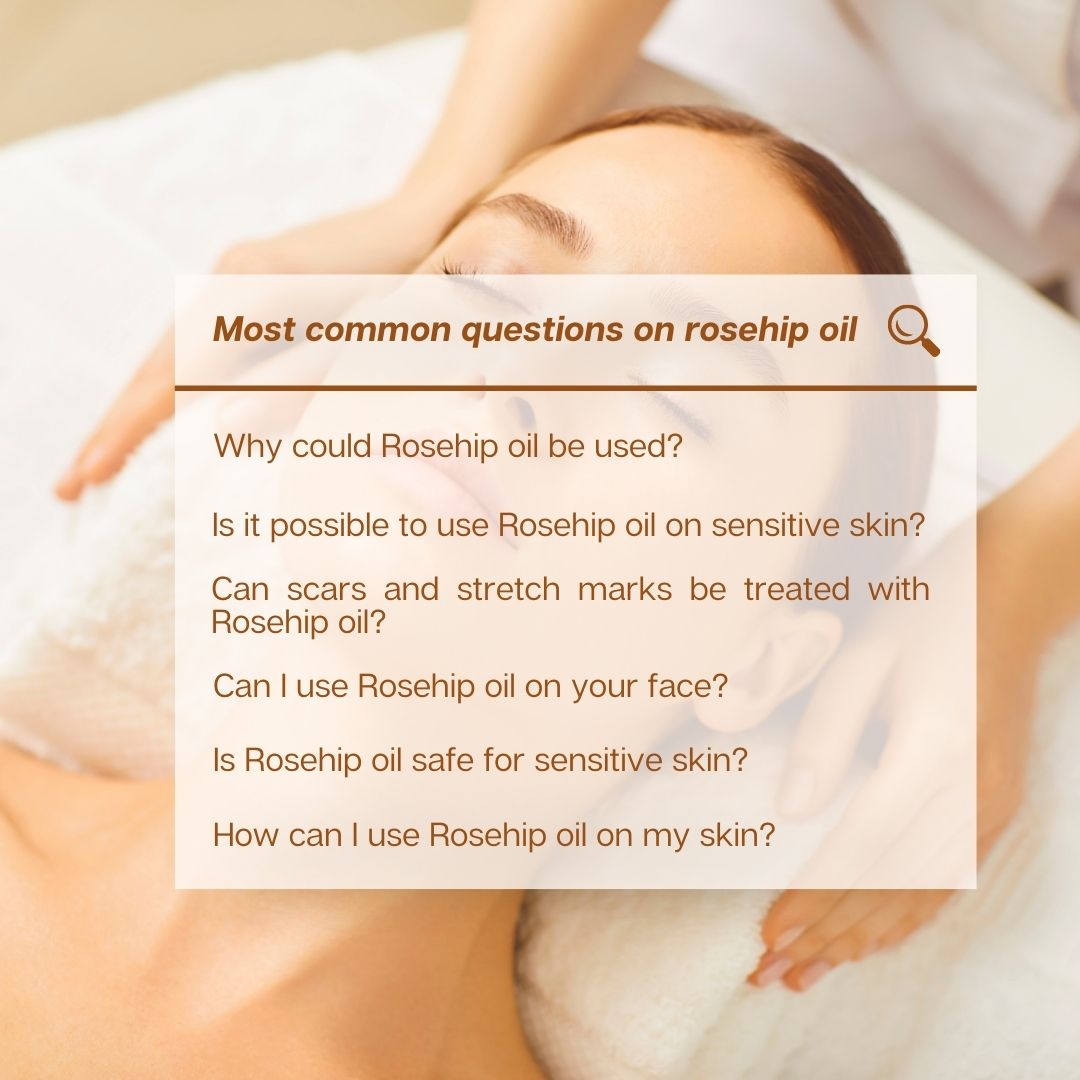 Today we thought of answering the most common questions on our Rosehip oil asked by our community.
WHY COULD ROSEHIP OIL BE USED?
Rosehip Oil is a natural substance made from plants, that has been shown to be good for your skin, nails, face and hair. The Andean Indians of Chile, who were the first to learn of its extraordinary qualities, have been using it for generations. 
The benefits and applications of rosehip oil are as follows: 
Fights premature ageing and fine lines: include Rosehip Oil into your daily skincare regimen and notice the difference in your skin's firmness, suppleness, and youthfulness. 

Acts as a moisturiser: Rosehip Oil, which has high quantities of essential fatty acids, can be used in place of a moisturiser on the face. 

Helps with anti-ageing: It offers several anti-ageing advantages. Stretch marks, age spots, acne, hyperpigmentation, burns, and scars can all be made less noticeable by applying Rosehip Oil to the affected area.

Apply Rosehip Oil to dry, chapped skin to moisturise and nourish it. It works particularly well on the wrists, elbows, knees, and heels.

Dry cuticles and brittle nails: Apply Rosehip Oil daily on your hands, cuticles, and fingernails to nourish brittle nails, prevent damaged cuticles, and help your skin seem more youthful.

Dull, lifeless hair can be repaired by gently massaging warm rosehip oil into your hair and scalp.
IS IT POSSIBLE TO USE ROSEHIP OIL ON SENSITIVE SKIN?
Yes, sensitive skin can use rosehip oil without experiencing any negative side effects. If used frequently, it will aid in giving your face a lovely, healthy glow and leave it feeling smooth and hydrated. If you are allergic or have exceptionally sensitive skin, test a small amount of rosehip oil on your inner forearm or under your jawline and wait 24 hours before using it on larger regions.
CAN SCARS AND STRETCH MARKS BE TREATED WITH ROSEHIP OIL?
Yes, it can. To reduce the appearance of scars, wrinkles, blemishes, and skin pigmentation, rosehip oil is particularly efficient. Rosehip oil easily enters the skin and contains protective nutrients including Vitamins C and E, vital fatty acids, and other antioxidants that can lessen discolouration and encourage the synthesis of collagen. The oil has high concentrations of the important fatty acids linoleic (Omega 6) and linolenic (Omega 3), which are thought to support skin texture and encourage the production of new skin cells.
CAN YOU USE ROSEHIP OIL ON YOUR FACE?
Yes, you can use rosehip oil on your face as part of your regular skincare regimen. The skin readily absorbs the oil. There are two methods to use it: either add one or two drops to your regular moisturizer or use two to three drops, warm in your palms and apply to your face. Use Rosehip Oil morning and night for maximum effects. Before covering it with a moisturizer or sunscreen, give it five minutes. Your skin will feel softer, firmer, and more radiant after using rosehip oil. It has remarkable anti-ageing properties and aids in the reduction of wrinkles and fine lines.
IS ROSEHIP OIL SAFE FOR SKIN THAT IS SENSITIVE?
Rosehip oil is safe to use on sensitive skin, including delicate skin and can be used to help relieve dry, irritated skin. Before using this product on the skin, it is very vital to patch test it for sensitivities.
ROSEHIP OIL FOR SKIN: HOW DO I USE IT?
Rosehip Oil is a thin face oil that you can use alone or in combination with moisturizer. Use the tip of your index finger to gently dab Rosehip Oil all over your face and neck after applying a few drops (2–3 drops are plenty for your face; add a few more drops to benefit your neck and shoulder area as well) in the palm of your hand. After that, softly massage in an upward motion. There is no oily residue left behind once the oil is swiftly absorbed. Use Rosehip Oil as a hand moisturizer after every wash to keep hands looking young and to battle ageing skin.
If you have any more questions, you can raise in comments and our team will be happy to answer.