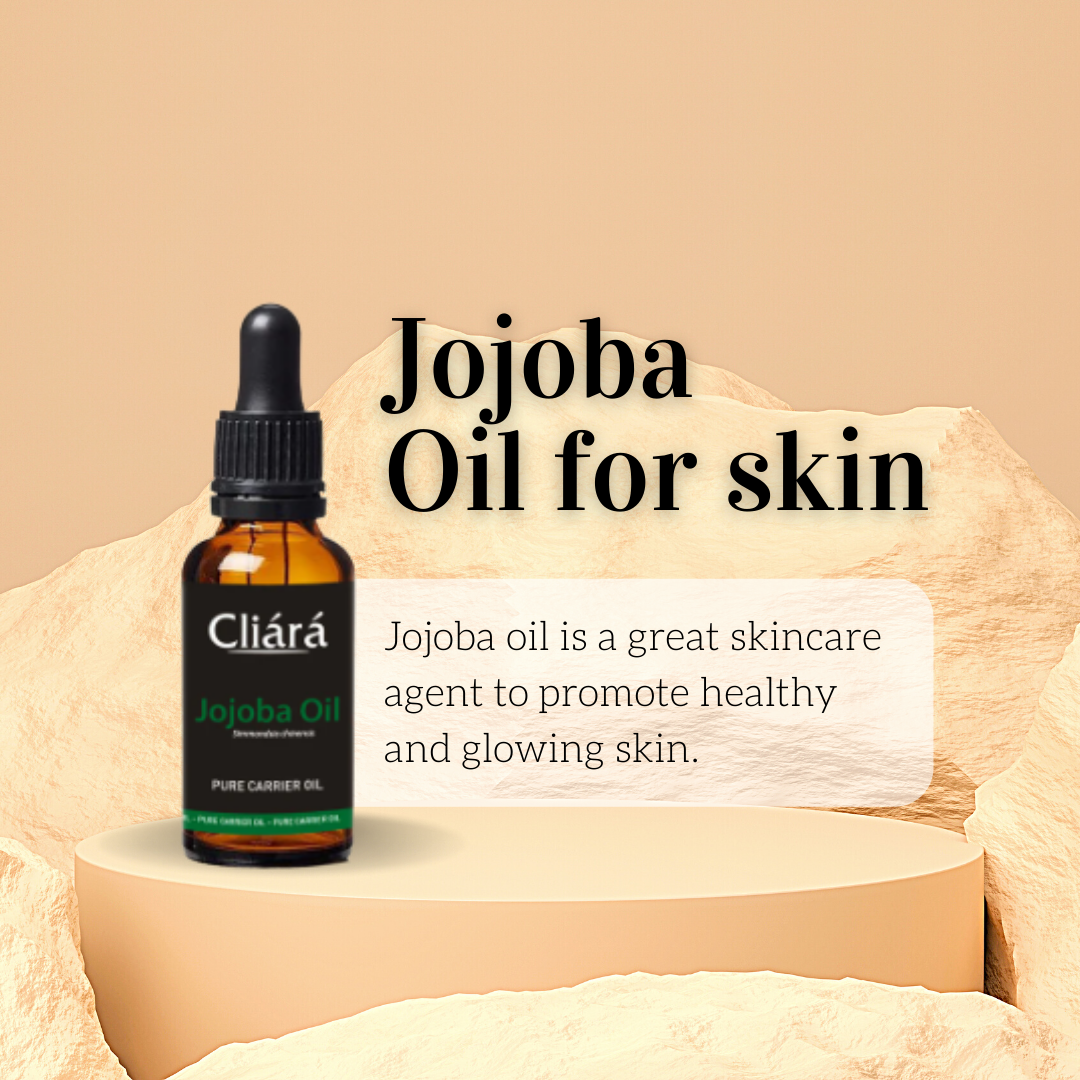 Identified as a popular carrier oil, which can be mixed with various other essential oils to maximize their effects, jojoba oil is also popular for its healing power and many other benefits. Renowned as a skincare agent, jojoba oil provides many other benefits such as its antibacterial and antioxidant properties that make it a great all-rounder essential oil.
Acne treatment
Acting as an antiseptic, jojoba oil can be used as a remedy for acne treatments and to treat dry skin, wrinkles, fine lines, and other skin effects caused by aging. Jojoba oil is also similar to the natural oil produced by the body. As the skin does not identify a significant difference between the two, jojoba oil is absorbed into the skin as the same as a naturally produced body oil. This reduces clogging pores, thus reducing acne formation. Its similarity to sebum also reduces the production of sebum within the body. This reduces the oily appearance of the skin and also prevents acne formation. All these make jojoba oil a great skincare agent to promote healthy and glowing skin.
Antibacterial properties
The antimicrobial and antifungal properties of jojoba oil make it a good combatant against various skin infections and rashes that could be caused by the formation of bacteria and fungi on the skin. This helps to prevent skin diseases and skin rashes and helps to maintain healthy skin.
Antioxidant nature
Due to the presence of Vitamin E in natural forms in jojoba oil, it provides antioxidant properties that are beneficial for the skin. When the skin is exposed to harmful substances, toxins, and pollutants in the environment. This leads to creating oxidative stress on the skin. The antioxidant nature of jojoba oil prevents this and helps to maintain healthy skin.
Moisturizing benefit
Jojoba oil has a humectant property, which reduces the loss of moisture. As a result, this helps to preserve skin moisture when applied to the skin. It also helps to keep the skin adequately hydrated. This is because jojoba oil acts in the form of wax, which seals the moisture on the skin surface. This further promotes moisturizing of the skin. This benefit also results in preventing dry skin, dandruff, rashes, infections, and acne that could be otherwise caused due to reduced moisture and dehydration of the skin. Its moisturizing ability is what makes it a great choice for optimizing the outcomes of skincare routines. This helps to increase the healthy glow of the skin while preventing skin diseases caused due to dry skin.
Promotes collagen synthesis
Collagen is an essential protein for healthy skin. Collagen also has anti-aging properties that help to preserve the young and healthy outlook of skin. Jojoba oil and its antioxidant property are believed to have collagen synthesis abilities. This helps to maintain healthy and glowing skin with anti-aging effects such as the reduction of wrinkles, fine lines. dry skin and stretch marks. This promotes skin replenishment and helps to maintain healthy, youthful, and glowing skin.
Healing property
The binding nature of jojoba oil helps to increase the speed of wound healing, caused by cuts or scratches. The collagen synthesis property of jojoba oil also helps this process as collagen is a protein responsible for binding and structuring the skin cartilage and bone cartilage. This also helps in reducing acne, as acne can also be considered a type of wound. It also helps to reduce acne scars through collagen synthesis and skin replenishment. It also prevents and controls the development of skin infections and skin diseases.
Sunburn and infection soothing
Comparative to most other essential oils, jojoba oil is non-irritating. It provides a soothing sensation both because of its wax nature and its moisturizing properties. Apart from that, the non-irritating nature ensures that allergic reactions are minimized. These make it a great soothing agent for sunburns, rashes, and other infections. The antioxidant property also makes it a good sunburn soothing agent when combined with its Vitamin E content, which combinedly soothes affected skin. The infections, rashes, irritations, and flaky skin that are caused as a result of sunburns can also be treated and soothed with jojoba oil. This is because of its anti-inflammatory and moisturizing properties.
Treatment for skin diseases
Various skin diseases caused by dry skin such as eczema, severe flaking, itching, and psoriasis can be cured with the use of jojoba oil. The moisture preserving and hydrating properties of jojoba oil reduce the dryness of the skin that causes these skin diseases. The wax properties of jojoba oil also minimize the skin diseases that can be caused by dry skin as it seals the moisture within the skin. Even when these diseases are caused, the anti-inflammatory and anti-bacterial properties of jojoba oil treat and heal these diseases. This helps to maintain healthy skin.
Anti-aging properties
Due to its ability to synthesize collagen and preserve moisture, jojoba oil can be used as an anti-aging agent. It promotes healthy and moisturized skin, thus reducing wrinkles, fine lines. dry skin and stretch marks caused due to aging. The collagen synthesized by jojoba oil helps to preserve the elasticity of the skin and the moisturizing property of jojoba oil helps to preserve the youthfulness of the skin. Both these promote healthy, youthful, and glowing skin with reduced effects of skin aging.
Reduction of skin scars and skin marks
The increased elasticity created due to the collagen synthesis property of jojoba oil combined with its Vitamin E content and the antioxidant properties helps to restore the skin conditions within a short period of time. Even when scars or skin marks are created due to wounds or injury, or due to aging, these properties will help to reduce these and restore the original skin condition. The natural wound-healing process promoted by jojoba oil also helps this. And similar to how jojoba oil acts as an anti-aging agent, it reduces and prevents scars and skin marks as well. All these make jojoba oil a great skincare agent to promote healthy and youthful skin.