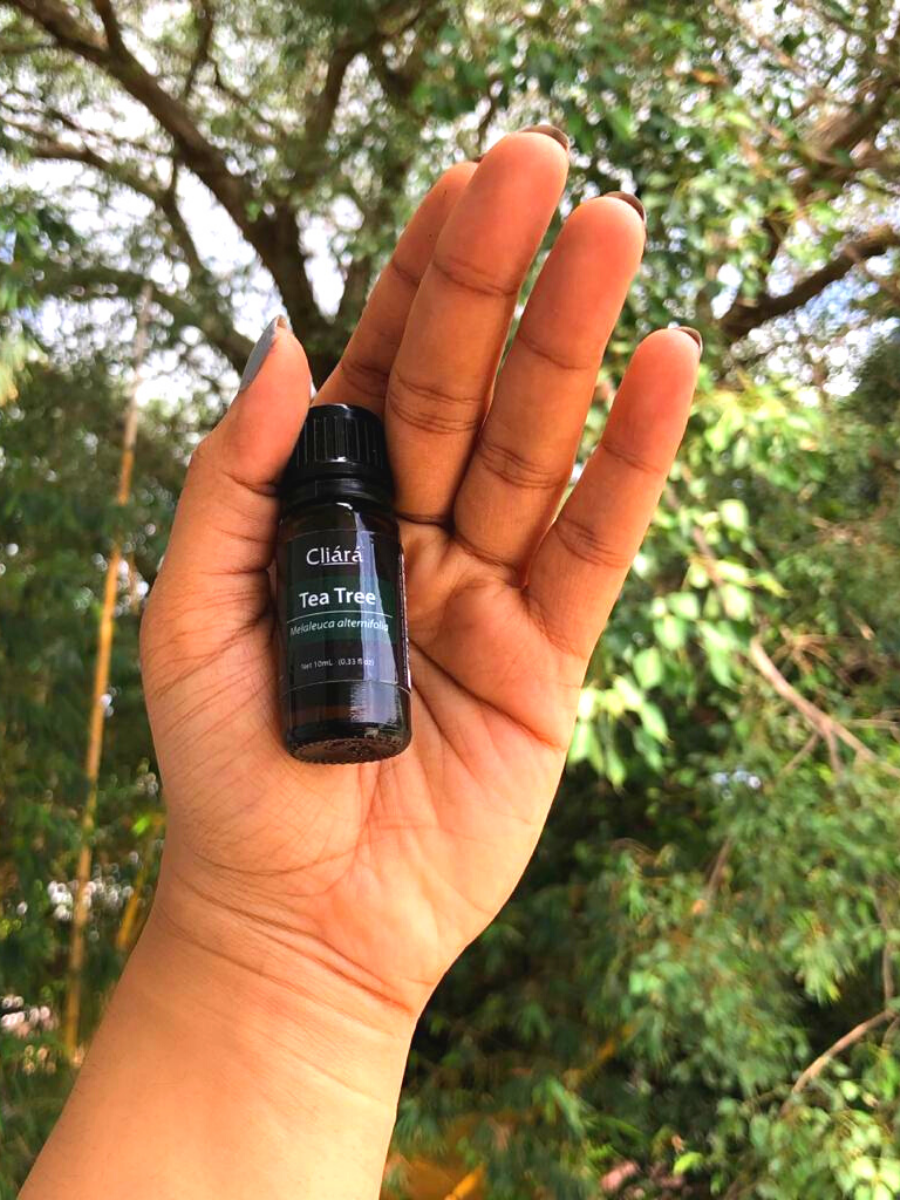 Tea tree oil is a natural wonder! It is a plant derivative used from ancient times to heal a variety of skin conditions due to its anti-inflammatory, antiseptic, anti-microbial and nutritious properties. This magical oil can be used for skin care, nails care and hair care, it supports the improvement of the overall appearance of your skin.
Here are 06 magical benefits of tea tree oil and how to use it to obtain results.
Glow the skin
Tea tree oil is one of the best essential oils used by beauty product specialists as their go-to natural ingredient. This oil support you to have a glowing and flawless skin.
How to use: Mix 1-2 drops of tea tree oil with a carrier oil (12 drops), Jojoba oil is the perfect fit and apply on your face at least once a day. Do not apply tea tree oil directly on the skin.
Treat acne
Tea tree oil considered as the best natural remedy for acne treatments. It is proven to be one of the most effective ways of reducing acne and scars due to its anti-inflammatory and antimicrobial properties. 
How to use: Mix 1-2 drops of tea tree oil with 02 teaspoons of honey, apply it on the affected area using a cotton pad and rinse it with lukewarm water.
Oily skin or dry skin
The antiseptic properties of tea tree oil can support oily skin and damaged skin also tea tree oil can help soothe dry skin by overcoming itching and inflammation. It soothes the skin and can also help heal infections that cause itchy skin.
How to use: Mix a few drops of tea tree oil into your skin toner, moisturizer lotion or sunscreen and use it every day.
Strengthens nails
Among its healing benefits, tea tree oil has antifungal and antiseptic properties also an effective treatment for nail fungus. Nail fungus can be challenging to heal because it may not resolve right away but the powerful antiseptic properties can support healing discoloured nails and prevent fungus.
How to use: Use a cotton pad soaked in the diluted tea tree oil on the affected area for a few minutes. You can use any carrier oil to dilute the tea tree oil. Another method is to add 4-5 drops of tea tree oil to a half-ounce of carrier oil, mix them, stir into a bucket of warm water, and soak your feet for 20 minutes.
Fight dandruff and itchiness
Tea tree oil is a strong antiseptic and works well on removing dandruff and lice, it can also heal the itchiness of your scalp. Using tea tree oil on your scalp can be soothing and refreshing.
How to use: Add 2-3 drops of tea tree oil into your shampoo or conditioner and use every day.
Longer and thicker hair
Tea tree oil helps in promoting healthier, stronger and thicker hair, it can prevent or treat hair fall. It has anti-fungal, anti-bacterial, anti-inflammatory and anti-oxidant properties that are beneficial for the hair, using tea tree oil makes hair follicles more receptive to nutrition and this promotes overall hair growth. 
How to use: Mix a few drops of tea tree oil with a carrier oil (02 teaspoons) such as coconut oil, olive oil or argan oil, apply it on your scalp and gently massage for 10 minutes.
100% pure therapeutic grade tea tree oil