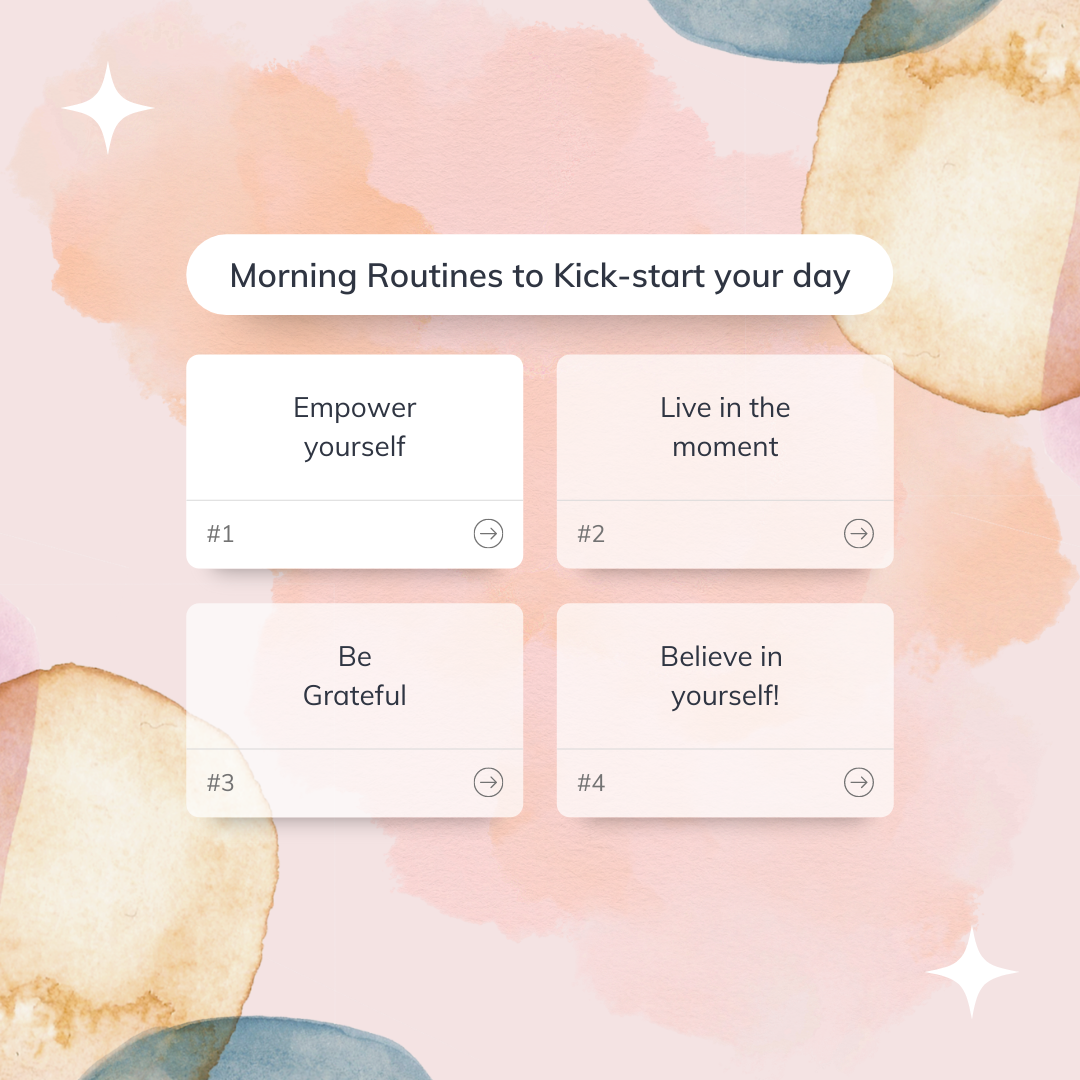 Have you been having trouble getting into the swing of things? Well, we all have been there! Whether it's workload, gloomy mornings, relationship issues, anxieties, or even the everyday grind. The mindset we have at the beginning of the day can kick-start your day - yes, morning routines can empower your day. A magical morning routine can help you focus or get into a certain mindset that is driven by growth, a morning routine can help you boost your self-esteem and direct you to have an outstanding day.
Get into a comfortable position, whether seated or lying down, before beginning your mantra meditation. Slowly inhale and exhale to relax your body and put you in a relaxing state. Take a deep breath in and breathe through your opposite nostrils. Covering one nostril and breathing in through the other, then moving to the other nose and breathing out, is how this breathing technique works.
Empower yourself
It's extremely easy to fall into emotions of inadequacy in today's environment, with social media showcasing off everyone's lives. It's difficult not to compare ourselves to others rather than focusing on our own progress. You are strong, and you deserve to feel that way. For a burst of optimism and empowerment, repeat this mantra:
"Today is a wonderful day full of possibilities. I'll overcome my restrictions. I have faith in myself. At this moment, I am precisely where I am supposed to be in my life. Because it is my choice, I will have a good day today."
Pair your breathing exercises with the cheerful aroma of Clary Sage or Bergamot.
Live in the moment
Is it challenging for you to live in the present? Are your thoughts continuously flying across time, reminiscing about the past or fretting about the future? You're not on your own. We are often so preoccupied with the past and future that we forget to appreciate the present. Use this chant to calm your mind and awaken the ability to appreciate each moment:
"I'm exactly where I'm supposed to be. I'm going to plan my day ahead of time and live in the moment. This is my moment. This day will be serene and purposeful for me. I've decided to let go of my old worries. I'm going to let my present dictate my future."
Combine a few drops of Frankincense essential oil with a few drops of Lavender essential oil. This mixture should be massaged into pulse points like your wrists and inner elbows.
Be grateful
Do you ever have the feeling that your life is merely one day after another? Or perhaps you're having trouble loving every aspect of yourself? We have a remedy that can drastically alter your outlook: gratitude. Instead of focusing on what you don't have in life, filling your heart with appreciation for what you do have might help you see how fortunate you are.
Keep a gratitude notebook to practice this technique. Write down at least three worth being thankful for each day in the morning and evening. If you need a little self-love boost, consider making a list of all the parts of your body that you appreciate and why.
"Everything I require is already within me. I am grateful for everything I have and everything I am. I am enough."
Diffuse a few drops of Geranium or Ylang Ylang when you write your gratitude journal.
Believe in yourself!
Encourage your inner voice to believe what you're hearing from the outside. While staring in the mirror, repeat this phrase to yourself. This will raise your self-esteem and raise your consciousness to a new level because we believe in you—now it's time for you to believe in yourself as well!
"I am a powerful individual. I am a nice person. I am stunning. I am deserving of love. I welcome kindness and love into my heart and accept what comes back to me."
While you work on this mantra, diffuse a Sweet Orange or Lemon essential oil combination.