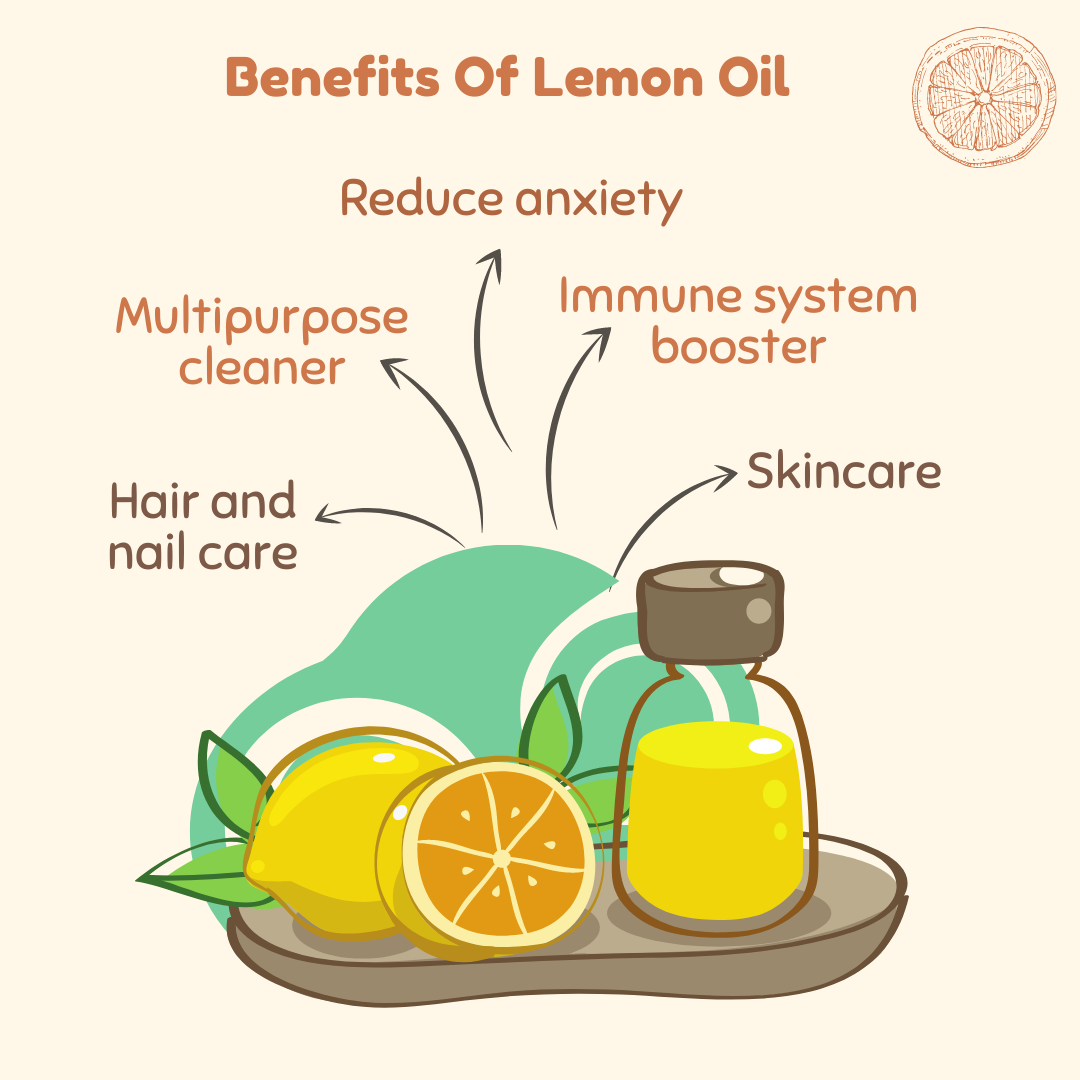 Popular for its antiviral, antifungal, antiseptic and antibacterial properties, Lemon Essential Oil has numerous health benefits. Considered as one of the top contenders for cleaning supplies, it's still used to improve the immune system and avoid infectious infections.
Reduce anxiety and improve your mood
Lemon relieves stress, nervous tension, and anxiety while also energizing and refreshing the mind. It's a solid pick for when you're feeling exhausted and fatigued. It improves focus, memory retention, and attention while relieving mental exhaustion.
Add a few drops to your bath, diffuser, or mix with a carrier oil and apply directly to the skin.
Skincare
Its antiseptic properties help to reduce breakouts, remove dead skin cells, and brighten and clear your skin. Lemon helps to tighten sagging skin and prevent wrinkles. Because it is detoxifying and reduces excess oil on your skin, it is frequently used to treat acne.
Apply topically after combining with a carrier oil.
Immune system booster
Lemon, when applied topically mixed with a carrier oil to the bottoms of your feet, helps to lower fevers and ward off diseases. This is accomplished by boosting white blood cells. Lemons are high in vitamins and nutrients. Mix it with peppermint essential oil to boost circulation.
Apply topically or diffuser. If you do get an infection or illness, it can help relieve muscle aches and pains.
Hair and nail care
When your nails start to look drab or yellow, use cotton balls to rub lemon essential oil on them to make them white and shiny again.
Mix a few drops of lemon juice with a spray bottle of water and spray onto your hair for more vibrant hair. It revitalizes your hair, leaving it shiny and healthy.
A multipurpose cleaner
Remove the chemical from cleaning supplies. Lemon is a disinfectant that can be used in a variety of ways around the house. Its antibacterial and anti-fungal properties make it a great choice for one all-natural household cleaner or make different DIY recipes for various cleaning jobs around the house.
Simply combine several drops of lemon essential oil with water in a spray bottle and use it on countertops, ovens, toilets, sinks, and anything else you can think of. Vinegar is also excellent for cleaning.