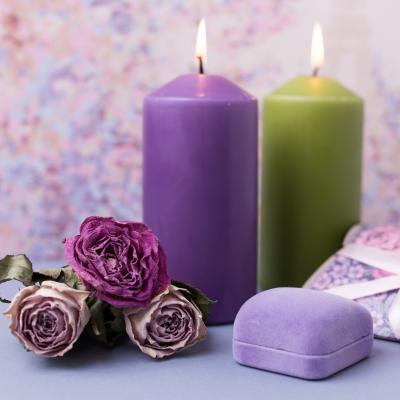 Scents have the power to soothe you, calm you, arouse you, please you, remind you, alarm you and delight you because they are deeply connected to our emotions and feelings. Our sense of smell is significantly important in our relationships; an aroma can bring us a memory of a person or a moment; they can even evoke our inner feelings. We thought of creating and sharing a guide on how essential oils can create an aromatic atmosphere to awaken the senses, pamper your body, stir the soul and inspire the romance.
How aromatherapy can awaken your inner feelings?
The power of aroma can be a strong influence on the central nervous system. Our sense of smell is directly linked to our brain-stimulus which can stir our emotions, memories and even influence further to hormonal responses. Diffusing therapeutic grade essential oils could be the perfect way to calm your mind and relieve anxiety and stress. For instances, essential oils including Lavender oil, Frankincense oil and Bergamot oil which are known as the best stress relievers.
Best essential oils for love and romance

Essential oils can play a strong role in relationships; some oils are excellent at sparking passionate emotions and cheer you up. Here are 05 essential oils you can use to spice things up with your significant other.

Lavender oil
Popular for its calming and soothing properties, Lavender essential oil can ease you into a slow, peaceful, playful and seductive mood. Diffusing a few drops of Bulgarian Lavender oil can support couples to get rid of negative feelings and find peace within them. The blooming floral fragrance of Bulgarian Lavender oil is thought to bring about feelings of love, care, passion and comfort.

Ylang Ylang oil
The sweet, floral aroma of Ylang Ylang has the ability to create a relaxing atmosphere for romance. The petals of Ylang Ylang flower is used to put on beds of newlyweds as a tradition in different parts of the world. The aroma of Ylang Ylang can help to soothe the body, relax the mind, boost self-confidence and stimulate the senses to bring one to the right state of mind to celebrate love.

Geranium oil
Floral fragrance never goes out of style; Geranium oil has a charming, sweet scent which can create a relaxing and soothing environment st home. The geranium aroma revitalizes and inspires clarity, serenity and enhances the sense of cheerfulness. When it is diffused in the night, it creates the perfect space for romance and intimacy.

Neroli oil
The sweet, woody and citrus oil, Neroli has uplifting therapeutic properties, the aroma has an effect on the mood and creating a cheerful and playful atmosphere at home. Diffusing a few drops of Neroli can be an ideal choice to arose romantic feelings and inspire passionate sensations. It is believed, the aroma enables couples to feel more youthful, lively and excited.

Patchouli oil
The deep, earthy aroma of Patchouli has a warm and long-lasting quality that soothes emotional intensity, develops comfort feelings, improves security and wholesomeness. The full-bodied and classy aroma creates a penetrating atmosphere that suits well for intimacy and sensuality. Diffusing this oil can be perfect for a rainy, romantic night with your significant other.


Romantic blends
Here are a few diffuser blends you can use to improve romance and intimacy with your partner;

Love Spell
You are my soulmate
Stuck on you
Cosy night together
In the mood to love you more