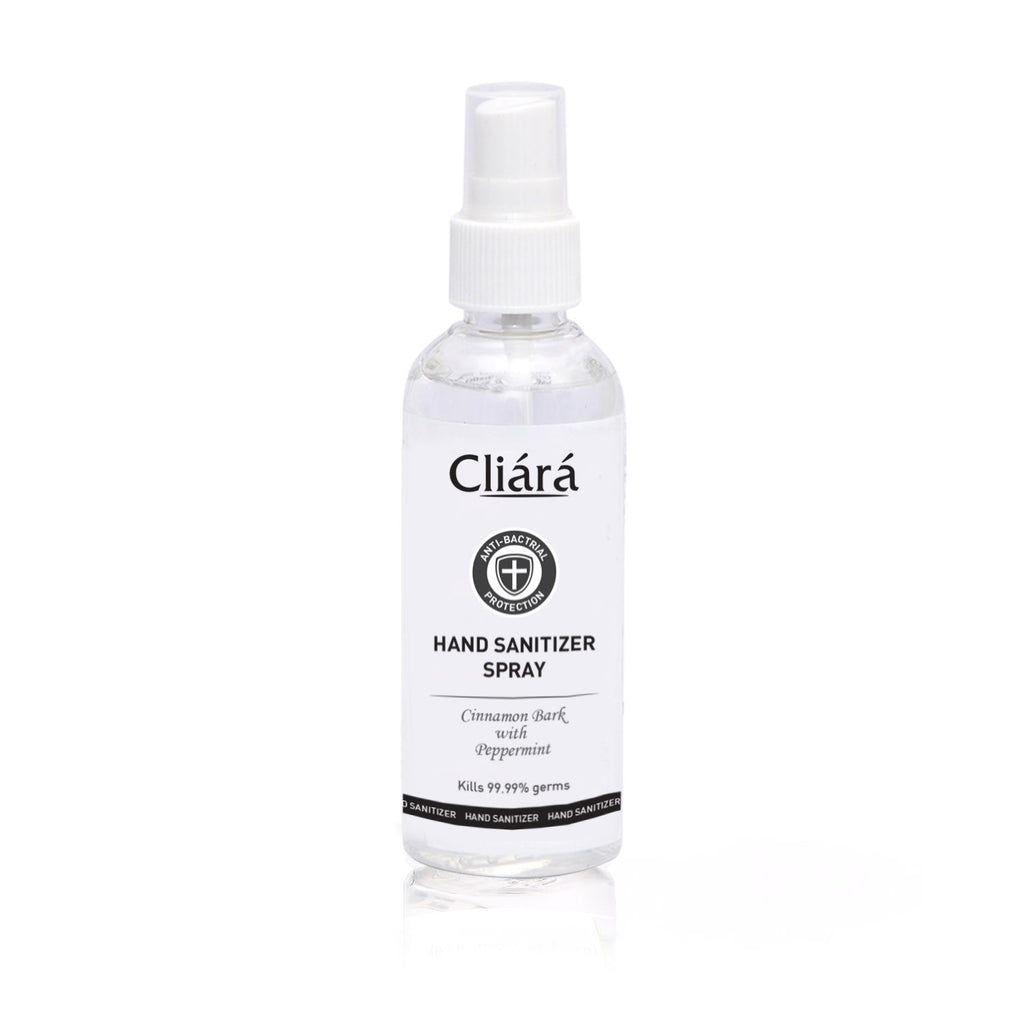 Hand Sanitizer Spray
Cliara Hand Sanitizer is rinse-free, non-sticky, and has an enhanced natural fragrance with better coverage. It is specially formulated with essential oils to protect you from 100 illnesses - causing germs with an easy application spray bottle, you can protect yourself & your family from a wide range of illnesses anytime, anywhere without soap or water which also benefitted with antibacterial protection from essential oils. In addition, the product is enriched with Moisturizers that don't let your hands dry up and leave them 99.9 percent germ-free.

Scent: Cinnamon Bark &  Peppermint

Benefits:
Easy application with spray pump
Can be used for a longer period
Easy to carry
Require less time than hand washing.
How to use:
Ingredients:
Isopropyl alcohol (78%), Glycerin, Fileted Water, Essential Oils 
Disclaimer:
For external use only, Flammable, Keep away from heat & flame. Avoid eye contact, in case of eye contact, rinse eye thoroughly with water, in case of irritation, discontinue use and consult a doctor.
Keep out of reach of children below 5 years.
Shipping inside Sri Lanka: We charge Rs. 250 islandwide for any location inside Sri Lanka. Free shipping for all orders above Rs. 3,500.
Shipping Times: Sri Lanka shipments take between 3-5 days.
Wow.
I wanted to take a moment to write a review about this because I feel like I need to share my experience with Cliara's iteration of the 'Anti-bacterial hand sanitizer'.
I've used all types of hand sanitizers, from many different brands this year (who hasn't in 2020, right?) and this stood out for me because of three things:
1. The spray dispersal angle is perfect! Covers the entire palm with one spray.
2. Absolutely no sticky residue... other sanitizers make it difficult to drive or use my phone immediately after using them but this works well without any post spray residue.
3. The scent is mesmerizing... exactly as described: a perfect blend of cinnamon and peppermint.
Now I don't always write reviews for the things I buy but when I take the time to do it, it means that the product is usually really good. Don't take my word for it, try it for yourself!
Good work Cliara