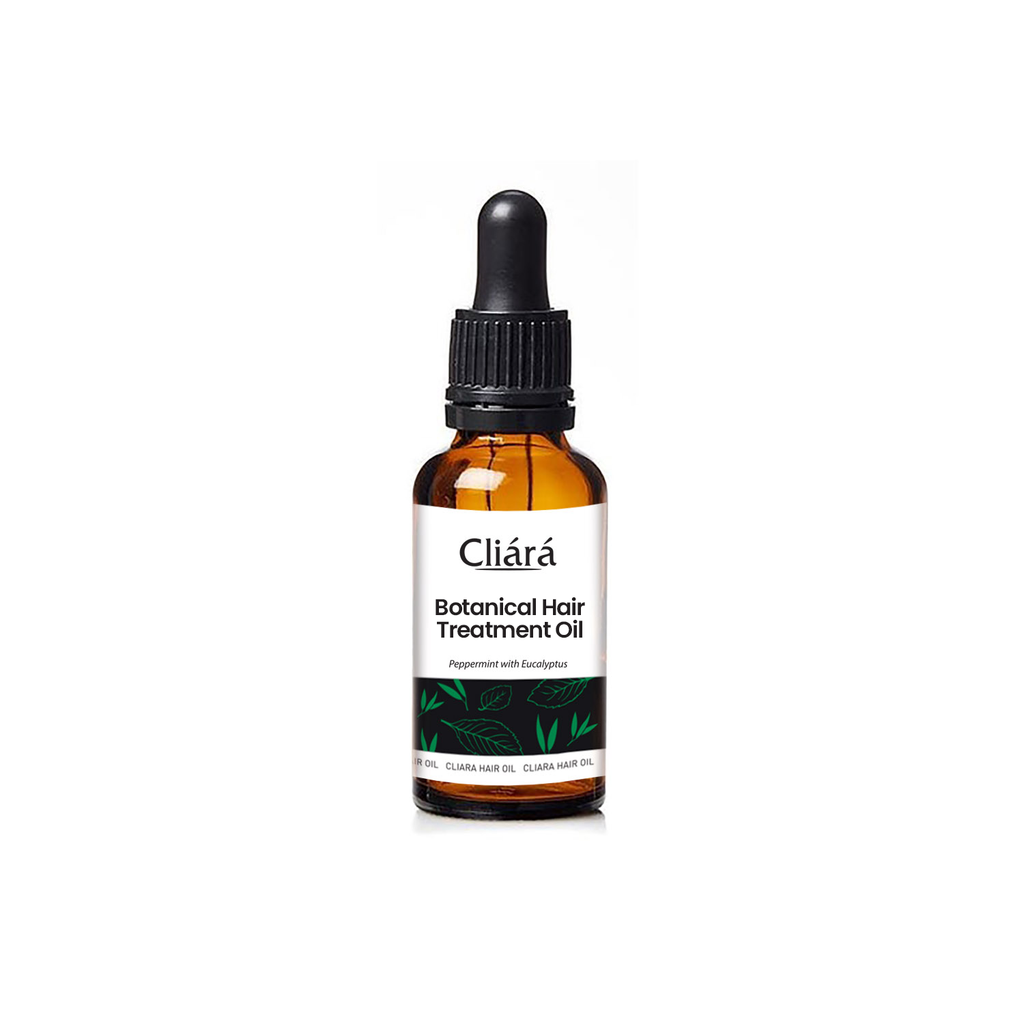 Cliara Botanical Hair Treatment Oil
Rich in natural vitamins, this carefully formulated botanical hair treatment oil is made with 12 fresh handpicked Sri Lankan plant oils. It is great in promoting hair growth, treating hair loss, controlling dandruff,  repairing hair damage. premature greying and manageable hair leaving your hair and scalp nourished, healthy. lustrous and strong. Guaranteed chemical-free, no additive. Suitable for all hair types. 
Natural Scent: Eucalyptus & Peppermint
Benefits:
Controlling dandruff

Promoting hair growth

Treating hair loss

Repairing hair damage

Scalp nourished

Smoothes and moisturizes hair
Improves shine and color 
Ingredients:
Made from 12 native Sri Lankan plants. Plucked and extracted in close proximity, retaining the freshness of the oils.
Precautions For Use:
For external use only, avoid eye contact. In case of eye contact, rinse your eyes thoroughly with water, in case of irritation, discontinue use, and consult a doctor.
Shipping inside Sri Lanka: We charge Rs. 250 islandwide for any location inside Sri Lanka. Free shipping for all orders above Rs. 3,500.
Shipping Times: Sri Lanka shipments take between 3-5 days.
Surekha
My hair was dry after coloring. Thanks to Cliara botanical hair treatment in addition to the cliara botanical hair oil my hair is in fine fettle again. Thank you Cliara!!
Hair Treatment oil
It's really good. My hair looks very healthy, full and shine. No hair fall at all. I recommended to my friends too and they also using it. Love it.
Cliara Botanical Hair Treatment Oil
Cliara Botanical Hair Treatment Oil
fantastic
I found this to be the best oil for nourishing my hair. Helps with frizz, and hair growth too.
Amazed at the results!!
Absolutely in love with this product. I had some hair loss due to hormone imbalance and this was exactly what I needed! It's helping my hair grow back healthy and strong and it smells amazing!!! I feel like I am in my own personal spa every time I use it. Highly recommend it!!
Amazing Hair Oil !!!
Loving the Botanical Hair Oil. I used it to massage my scalp before wash day and the peppermint scent is so invigorating. Added this one to my favorite hair oils !!
So amazing!
Cliara hair oil is so fantastic!! My scalp was so happy after a good scalp massage with Cliara! I love the soothing scent! I definitely recommend this hair oil!! ✨🙌🏼✨
AMAZING FOR SCALP MASSAGES
The relaxing peppermint and Eucalyptus scent is exactly what I need after a long day. I usually massage a few drop's into my scalp prior to shampooing. This routine leaves my dry and dehydrated scalp feeling rejuvenated and fresh. This is the perfect oil to incorporate into your weekly self care routine.
This brand also has plenty of other essential oil option's if you like to diffuse calming scents into the air. I love to turn on my diffuser and use a lavender sent while massaging this oil into my scalp.
SO RELAXING! TRY IT IF YOU LOVE SELF CARE!
Love all natural ingredients & treated dandruff with one use!
I used hair oil in the bath. I let the bottle sit in hot bath water and think the steam for my scalp and hair follicles made for effective application. For one treatment from scalp massage to hair ends, it took nearly 1/3rd of the bottle. Not sure if it helps with hair growth just yet! First time use did help with my winter dry scalp.